Welcome to my review of the JXD S7300 Dual Core HD Game Pad 2, I recently bought one of these and this review is based on my experiences of ownership over the last few weeks.
So what is the JXD S7300?
The JXD S7300 is essentially a 7inch Android Tablet with a built in Game controller, it's design resembles the WiiU controller and it's about the same size to hold but not as chunky!
The specs are pretty impressive for the price tag:
Dimensions: 241 x 121 x 14mm
Weight: 408g
Chipset: Amlogic MX
Processor: Dual-core 1.5 GHz Cortex-A9
Graphics Core: Mali 400
RAM: 1GB DDR3
Screen: 7-inch 1024x600 pixel screen (169ppi pixel density)
Storage: 8GB internal, MicroSD card slot (up to 32GB)
Camera: Front-facing 0.3 megapixel camera for video calls
Connectivity: WiFi 802.11 b/g/n
Other Features: HDMI out, 3.5mm headphone socket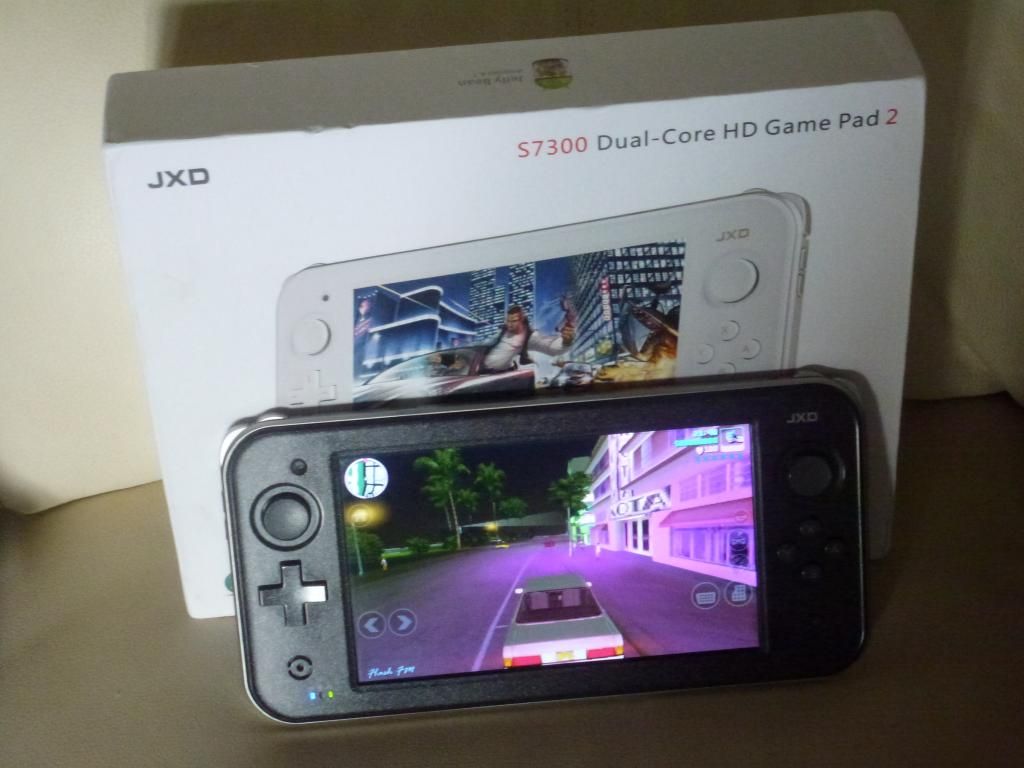 First Opinions:
Unfortunately I bought my S7300 second hand and I received it with an incomplete custom firmware install so it took me a little while to get it working as it should, obviously if you buy new you will not have this problem so my first opinion was somewhat tainted. I'm pleased to say since restoring the latest official firmware things are much better!
The build quality feels very good, it's weighty to hold and the controls feel solid, generally it feels more expensive than it is however once you start to use it regularly you do notice some quality issues, one is that the SD Card slot isn't aligned very well and it's easy to loose your MicroSD Card inside the case meaning you have to praise off the rear of the case and retrieve it! I've also had one of the shoulder triggers fall off during use, not good...
I've also found when charging from the mains adapter the touch screen goes crazy and is not unusable! It's ok charging from USB however, bug or fault? I'm not sure and since it was second hand I can't claim under warranty.
However for the price I was expecting these things so they do not make me regret my purchase, the touch screen for example is very good, not quite as accurate as my HTC Desire HD but much better then my old cheap Chinese Android Pad I used to own.
The physical controls are very good and this is the whole reason you would buy one, of course it's not as responsive as a modern Game pad but it's much better then battling with on screen controls. There are some limitation to controls, the right stick cannot be mapped for example with the on screen control mapper, there are however customs firmware options that offer an updated screen mapper and other functionality, I will talk about this more later.
The buttons all work very well and the D-Pad is responsive, the analog sticks are a little stiff but as said much better then using the touch screen controls! Some Games seems to be mapped to the physical controls by default which is nice, for others you can use the mapping software to set them to the on screen controls, I will show how this works on my Video at the end of this review.
So what does it do?
The S7300 runs Android 4.1.1 (Jellybean) and will do most things other Android Pads do such as access to the Play Store's Games and Applications, Email, Internet, Movie's, Games, MP3's, etc. The main reason I bought mine is for emulation, to play my favorite retro Games on the go. Android is a pretty decent platform for emulation as there are emulators for most classic consoles and computers now both free and paid.
Upon linking my Google account I was instantly able to download and install everything I've bought for my HTC Desire HD from the play store so this was an unexpected bonus for me, applications such as 'swift key' really make typing a lot easier and since I'd already bought paid versions of many Emulators like PC Engine and Games like Asphalt 7 these were available to me.
The S7300 also comes with emulators built in, whilst these are not as good as some of the paid emulators they are worth checking out as the controls are already mapped and configured for the physical controls so it's quick and easy to jump into a Megadrive/Nes/GBA game and get playing right away. Some of the paid Emulators need time configuring the on screen controls and this needs to be done every time you load up, it doesn't take long but it's an annoyance. (Note Custom Firmware supports saving profiles I will cover this later)
The S7300 has a HDMI output, this is very useful if you would like to play games or watch movies on the big screen, I used it in the Hotel a few weekend's again (at Play Expo) to watch some Breaking Bad on the Hotel TV, it works very well and was better then watching on the small screen. I even played some emulators and Games but I did notice slowdown compared to how they run on the small screen. I was playing at 720p by the way but it even supports 1080p!
How fast do Games and Emulators run?
Well obviously it depends on the Game or emulator, as said the built in emulator can be a little touch and go but there are paid versions you can go for and some also have ad supported versions.
I've tested a number of Games such as Grand Theft Auto Vice City and Max Payne, essentially PC ports and they run very well, a little bit choppy at times but overall very well. The controls for both are mapped to the left and right sticks by default, this was a nice surprise so I just had to map the buttons, so you look and move just like any other FPS game.
There's plenty of power for Megadrive, GBA, Nes, N64, PC Engine, etc emulation so you will have a good experience with these. I've been struggling a little with Mame, I think it's my Rom set's though as I have had some Games working at decent speeds, Neo Geo was a little slow surprisingly I expected full speed but CPS1/2 was quick.
I have also been using Amiga and C64 emulations, C64 (Frodo) is smooth and works well, very impressed with this one and it was free!
For Amiga I'm using UAE4ALL SDL, it's officially for Pandora but this is what I use on my HTC and it works really well, I will show in my Video this running, sound is a little choppy but it runs very well indeed and I can use my Classic Workbench HDF's with it.
So whats this Custom firmware you mention?
The JXD-S7300 is shipped with it's own official firmware of course but there are a couple of custom firmware's in the offering, one in particular which I've briefly tested is NCCE 1.1 (2.0 coming soon apparently)
This is stripped down but offers several optimisations and fixes such as SD Card swap, for example the S7300's own storage is split into 2 so you cannot use your MicroSD for installing games & apps, only storing data. Therefore you are left with only the 8gb storage for official games and applications, in my case I have all my Roms, etc on the MicroSD and Games/Apps on the internal storage. With Custom Firmware you can 'swap' this so that your bigger MicroSD storage can be used for your Games/Apps.
The Key mapper is improved so you can map both sticks and save profiles for Games, this is particularly useful for commercial Games like Nova3 which have quite intricate controls that take some time to setup!
You have the option of custom launchers such as Apex however I assume you can install these on the standard firmware (I haven't checked)
I have tested v1.1 and I quite liked the feel and layout, I will be keen to try 2.0 when/if released, it does however mean wiping all the data and starting again which would be an annoyance since I have everything setup just as I like.
What's compatibility like?
Well it seems to be a little hit and miss, some Games you would expect to work do not such as some Game loft titles, I will have to double check which ones as I have tried quite a few and this seems to vary on whether you are using Custom or Official Firmware. The Hardware should certainly be capable of running them.
Overall Verdict:
Overall I am very pleased with the S7300, price vs build quality vs performance is a good balance for me, although not perfect the physical controls are far better then gaming with the touch pad.
There are some annoyances such as the mains charging/touch screen issue and the fact you are limited to internal storage for Games/Apps, many games like Nova 3 are 2gb+ so it quickly fills up. As mentioned this can be fixed with Custom firmware however require completely wiping the Pad and starting again, a pain after you have installed a bunch of stuff!
The battery life is also pretty decent, it lasts a good few hours with varied uses and does not loose charge when left switched off.
Would I recommend one?
I think yes I would, I think it offers a nice emulation platform with all the features of an Android Pad. just set your expectations a little low on overall quality, be realistic about the price you are paying and you will be happy.
Also do your research as there are a number of similar products on the market some more geared up for emulation if this is your aim.
Video:
Here is a short Video of my JXD-7300 in action!
<Video to be added here>
I hope you enjoyed the review, these comments are solely my opinion, of course you will have your own experience and opinion but I hope you found it interesting and helpful, below are some web links covering some of the aspects discussed in the review.
Web links:
JDX's site:
http://www.jxd.hk/products.asp?id=62...classid=009006
NCCE Custom Firmware:
http://boards.dingoonity.org/jxd-dev...e-roms-thread/