Hi Folks!
Welcome to my first review
Today I'm reviewing the Micro AmigaOne, this was one of the last Amiga's produced by Eyetech and IMHO was way ahead of it's time.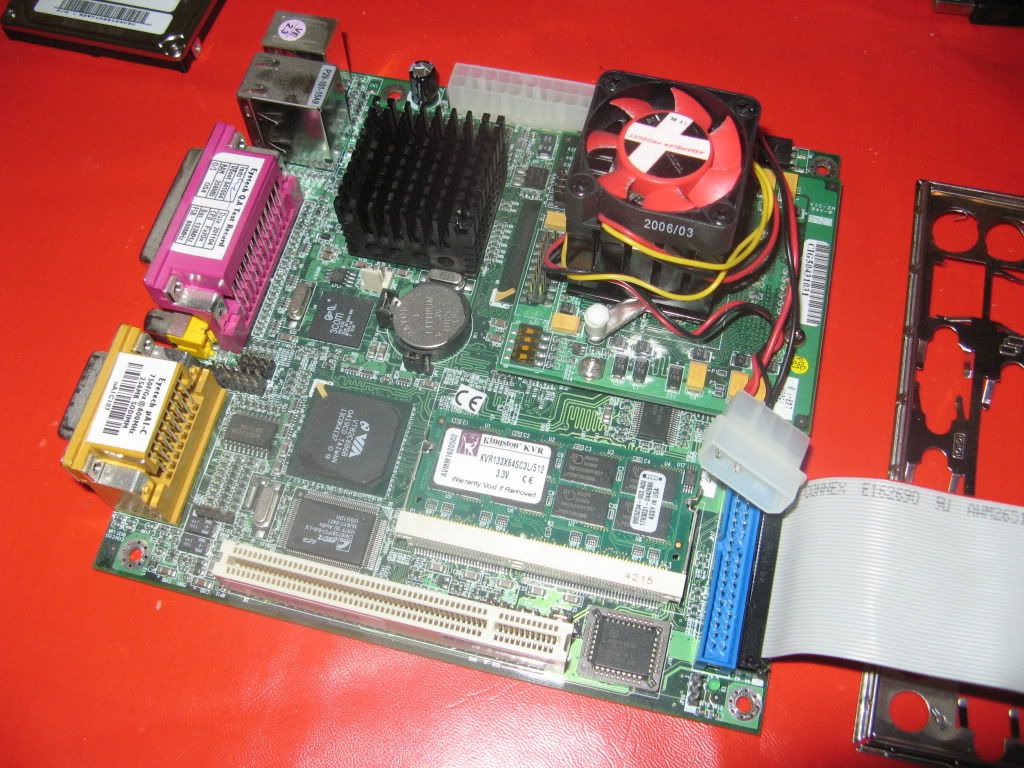 Overview
The AmigaOne is a PPC based Amiga capable of running the lastest Amiga OS, OS4.1 and also other PPC OS' such as OS4 and Linux for PPC Systems.
These little Amiga's can really pack a punch with G3/G4 PPC processors up to 933mhz (which can be overclocked) and up to 2gb Ram (PC133 SODIMM)
The uA1 Motherboard is MiniITX form factor and thus fits into MiniITX standard cases from x86 systems
Here are the technical specs of the machine:
CPU
- The µA1-C, just like the XE systems has a MagArray 300 connector for PPC processors made by IBM and Motorola and will handle G3/G4 CPU's up to their current clocking limits
Memory
- PC133MHz SODIMM slot.can take up to 2GB.
Legacy Peripherals
- Parallel 1x EPP/ECP,
- 2x Serial (on internal headers)
- JoyStick/Midi port
- PS2 kb and PS2 mouse ports.
Integrated Peripherals
- 2x 1.1 USB on the motherboard rear ITX I/O panel)
- 2 more on headers (using a front bay connecter)
- Ethernet: 10/100 with 3COM 920C controller
- Sound: Cmedia CMI8738 6 ch controller with 3.5mm mic, aux and speaker jacks
- UDMA 100 2 channel interface (VIA686B)
1 44 way (2.5" IDE)
1 40 way (Standard IDE)
PCI
- One PCI slot on board.
- With a suitable riser card you can add upto 3 PCI slots
Graphics interface speed
- ATI Radeon 7000 AGP graphics controller on board with VGA, S-Video and composite output with 32MB of non-shared memory.
BIOS
- Uboot socketed, with OS4 enabling code
The chipsets which are used on the A1-XE are also on the mA1 including the
- North Bridge- Articia "S"
which is the bridge board between the CPU, memory and PCI bus
- South Bridge- VIA 82C686B,
the chip that handles the system timing, interrupts, and communications between functions
Today I am reviewing my machine as this is the only AmigaOne I have owned, but I can compare it to the newer Sam440EP which I will discuss later in the review.
The build process
As explained earlier the Micro AmigaOne is MiniITX form factor, therefore for this project I used an Antec ISK100:
Although this case is very modern I thought it would make an ideal home for the uA1 as one of my aims for the project was to have a small but very powerful Amiga I could easily take along to events/meets.
It was a tight fit getting the Motherboard inside, so others may wish to use a slightly bigger case for their project, I also had to remove the CPU Fan to be able to close the case, however since this case has has a massive side cooling Fan my system runs cool enough just to use the Heatsink on the CPU. I guess a smaller CPU fan could be fitted if required.
The uA1 has 2.5 and 3.5in IDE headers, for this project I used the 2.5in IDE with a 2.5in Laptop HDD originally now replaced by a cool and silent 2.5in SSD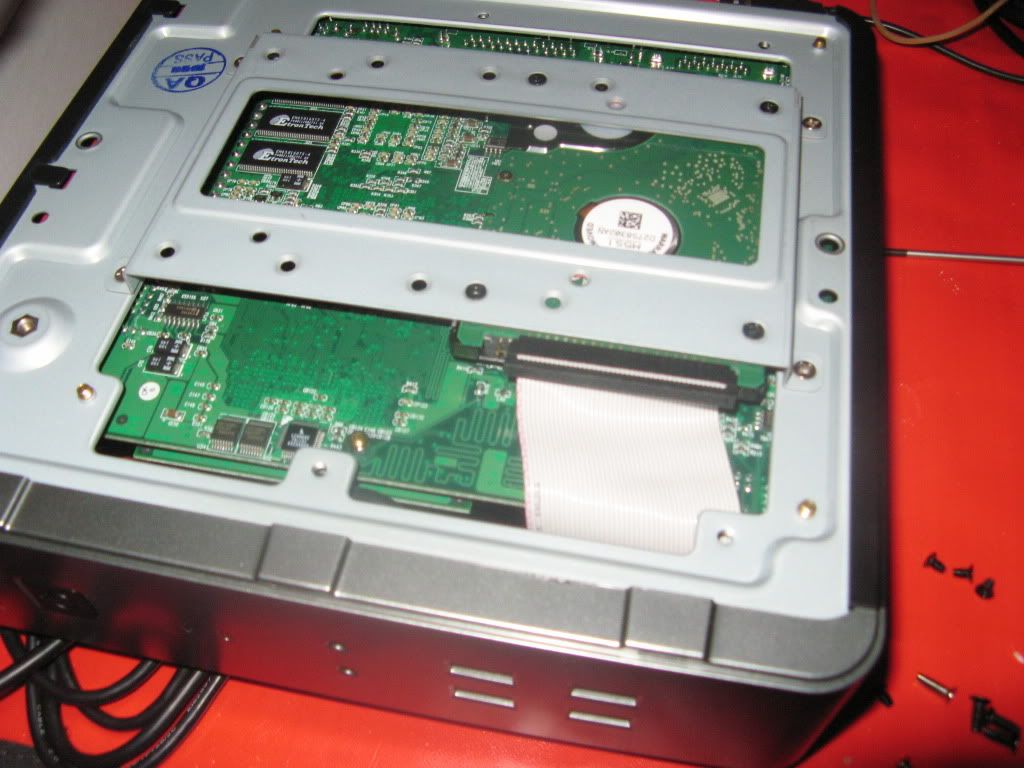 The uA1 has USB1.1 and has headers on the motherboard so you can add front USB ports, I was only able to use 2 of the available 4 on my case though.
TBH, fitting it all in this little case was the hardest part of the build - with a more generic MiniITX case it would be much easier and there would even be space for a slim DVD drive (I use a USB DVDRW drive on this setup)
So how does it run?
Well, I've only tested OS4.1 so I cannot comment on other OS' but I guess most people would want to use OS4.1 on a machine like this, and the uA1 runs it very well indeed. My system has a GX750 PPC chip factory overclocked to 800mhz and this seems very fast indeed. I have 512mb of Ram and this is plenty for OS4.1 even without a SWAP partition (I don't use swap for fear of too many SSD writes)
Games like Quake II and Wipeout2097 run silky smooth as do Emulators such as Mame & Neo Geo.
At last, there is Web Browsing on an Amiga that does not make you want to slit your wrists, OS4.1's OWB runs very well with many modern websites although sadly at this time there is no Flash so sites like Youtube are not supported.
Here are some screen shots of the machine running: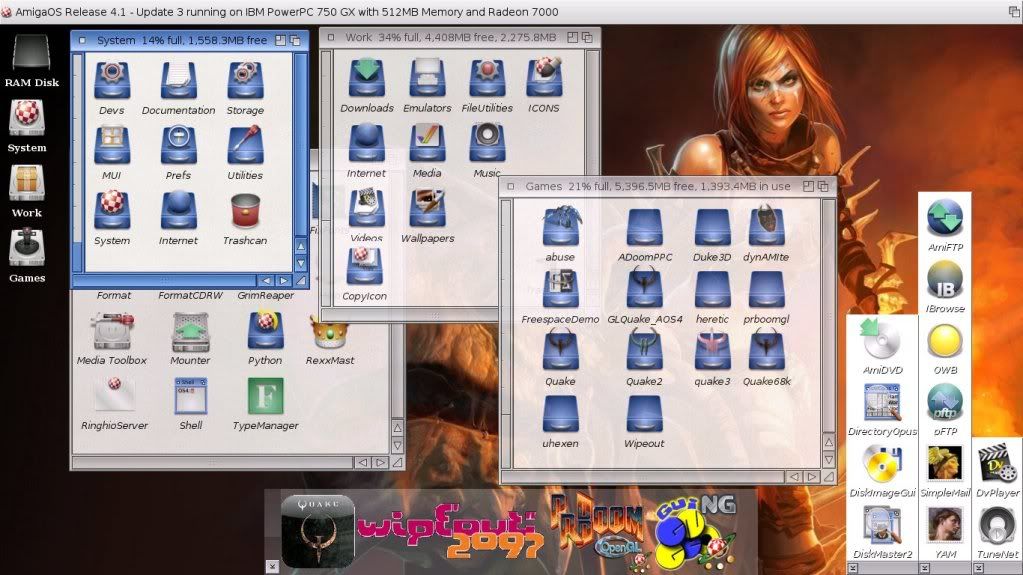 And a few Video's I took of it running:
http://www.youtube.com/watch?v=k3758p1THNg
http://www.youtube.com/watch?v=IWnPP6B7t3Q
http://www.youtube.com/watch?v=lXukg-OSp7M

Any drawbacks?
Well so far the review has been very positive and overall I think the AmigaOne is a great little machine which has a lot more potential than perhaps it has been give credit for, but yes there are some area's that let the machine down.
Graphics Power, the uA1 has a 32mb Radeon 7000 onboard, which by today's standards is a fairly basic graphics card and due to limitations in the Micro AmigaOne's UBOOT you cannot use a more up to date PCI Graphics card. This means that if you want to run a 24bit Workbench you need to turn off OS4.1's Hardware Compositioning which is one of the nicest parts of the OS. Of course, like I do you can just run in 16bit which still looks very nice.
There is also a lack of polished software support for the OS in as much as applications available, many of the Emulators/Games that are available are not fully developed and do not run to their full potential. This is no way a dig at those who are coding and working on apps and those helping test and develop OS4.1, your efforts are really appreciated
It is just a shame that this OS is a little too small time for the mainstream industry to get behind it.
Verdict?
Well overall, as a Next Gen Amiga I think that it does very well indeed. I like the small footprint and it has plenty of power for everything OS4.1 has to offer even if the Graphics abilities are a little below par.
You get an element of backwards compatibility via Emulation (UAE) and 020 JIT Emulation built into OS4.1 so you can run most of your old software and even WHDload Games
If you want something a little more up to date you could look at the Sam440EP, this is also MiniITX based and has mod con's such as SATA and DDR Ram plus support for PCI Graphics Cards.
Or of course you can look at the ATX Tower options such as AmigaOne XE and the Sam460EP or Pegasus 2
Thanks for reading and I hope you enjoyed the review
Hardware & Software resources:

IntuitionBase
Hyperion Blog
Hyperion Website & Forums
ACube Systems (manuals/drivers)
RunInUAE (backwards compatibility)
OS4 Depot