Good afternoon all. Long time no see and all that! How you all doing? Good, good....
Anyway. After having *that* conversation with She Who Must Be Obeyed, I either need a larger house or fewer old computers. Seeing as even in the darkest depths of Wales, property is stupidly expensive it has to be the former so welcome to the first of my "prune down the collection" sales posts.
The first, as per title, an Amstrad PCW with lots of goodies with it.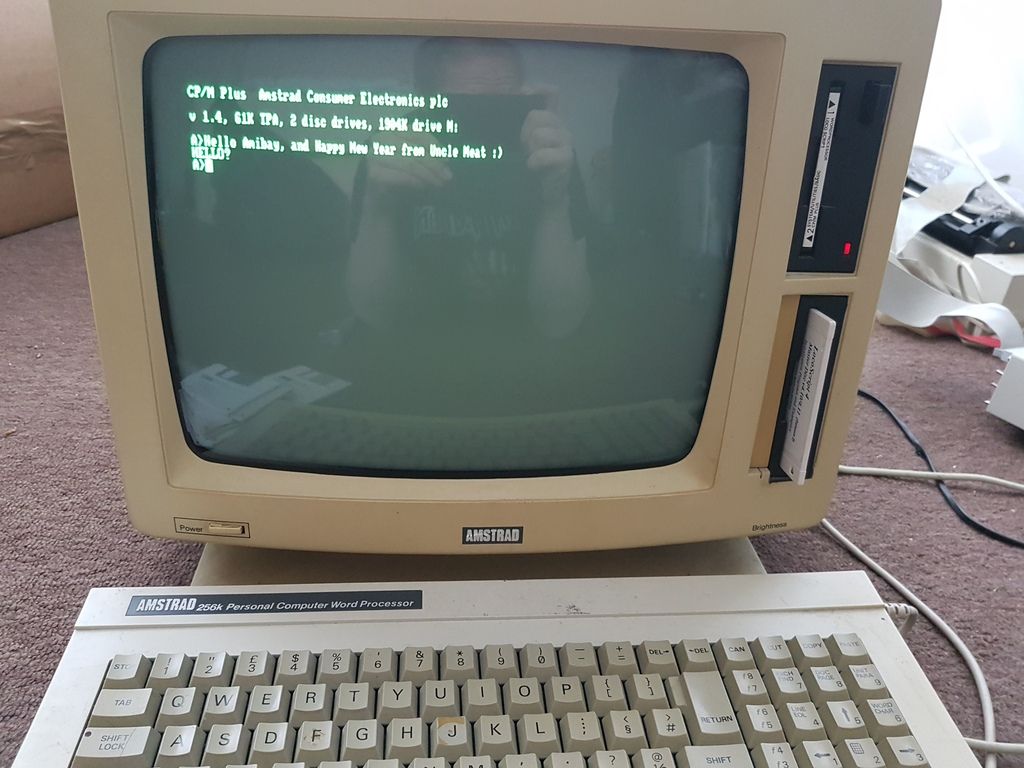 As you can see from this first pic, it is no ordinary 8256. Oh no. It has a 720kb 3.5" B: drive and has been upgraded to 512kb internal RAM and also has an extra 1.5Mb attached to the back, which leads me on nicely to the the next picture.
An SCA Systems RamPAC and parallel port with, as above, 1.5Mb of RAM stuffed cosily within.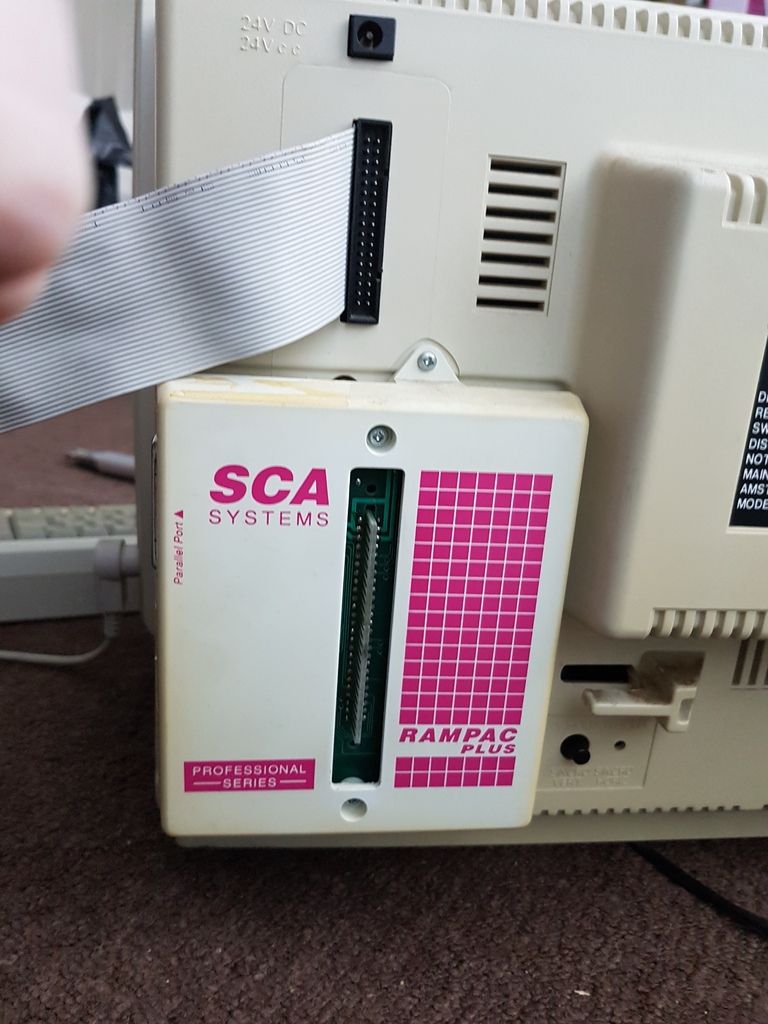 Sweet, I hear you say.
But wait! There's more...
Did I hear you say "If only it had a handscanner and mouse interface?" No fear, I have you covered.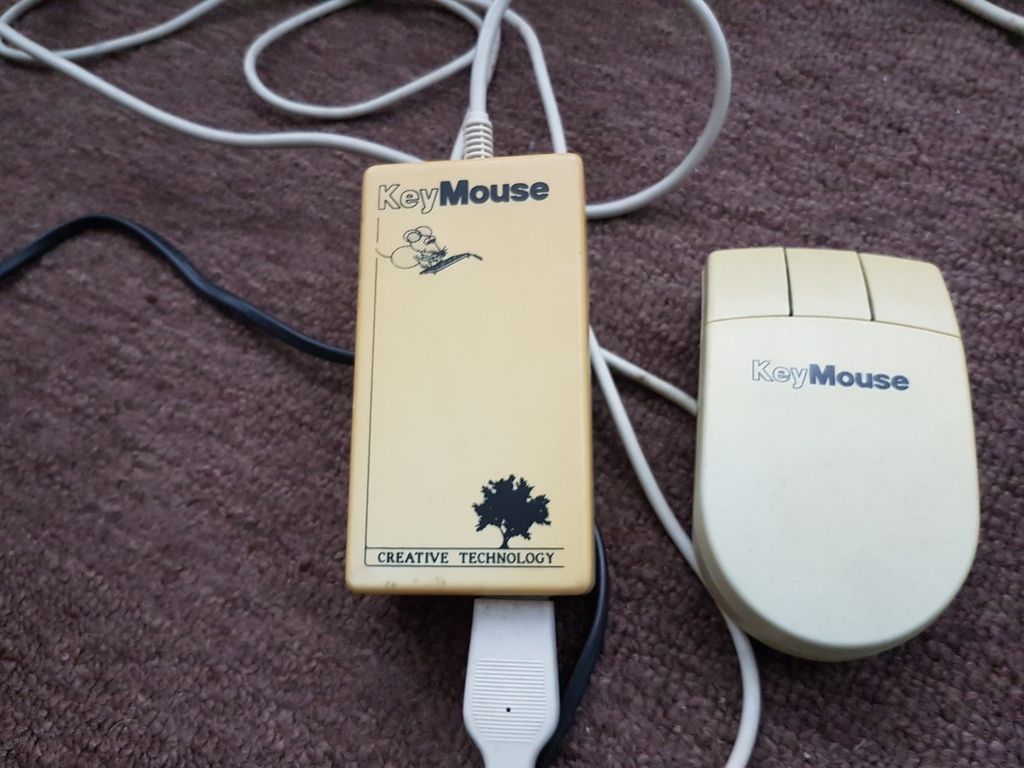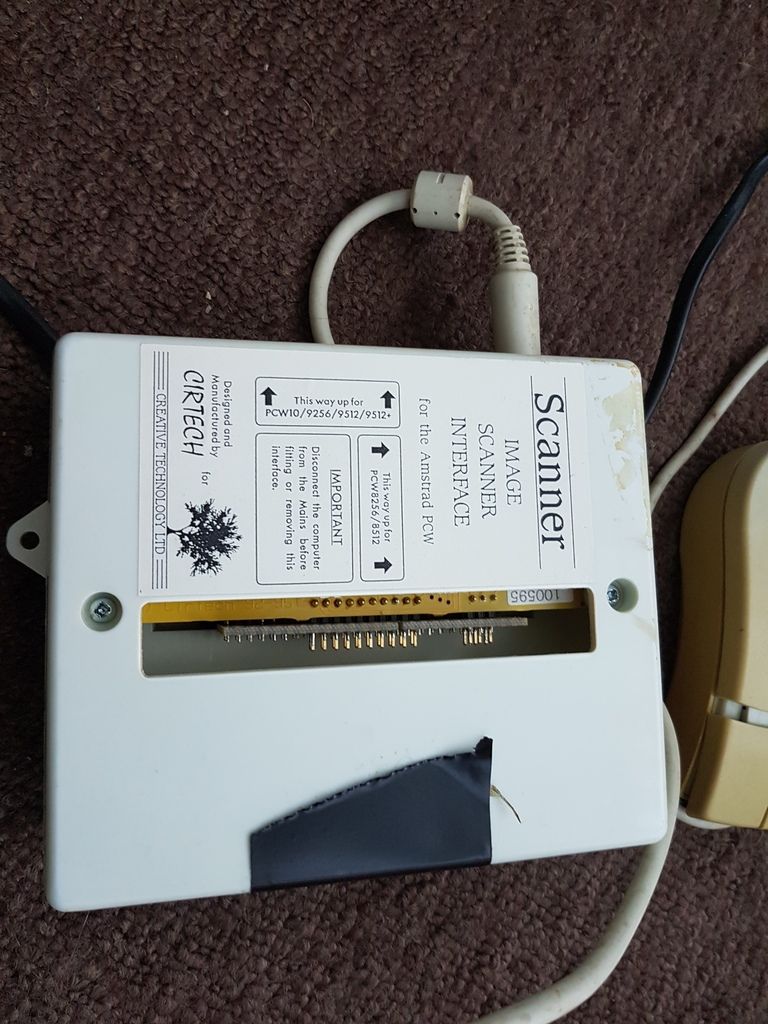 OMG! Can it get any better than this? Fear not. It can. Did you notice that ribbon cable hanging out of the back of the PCW? Extra floppy drives! A Pinboard Computers DataTwin8 no less.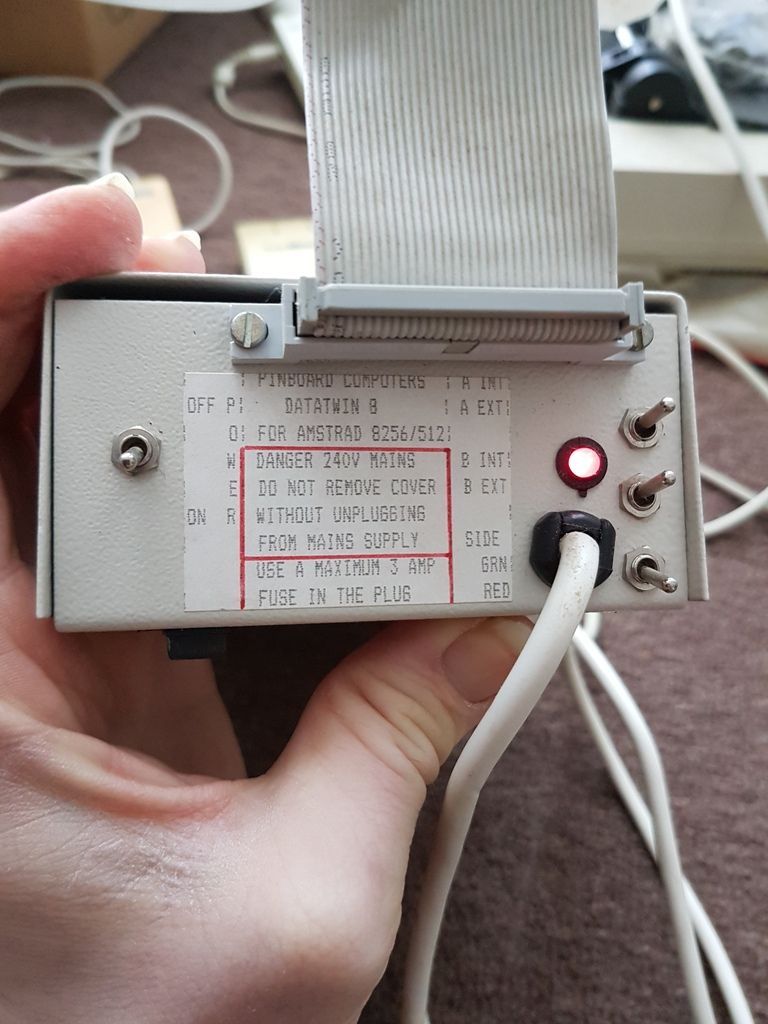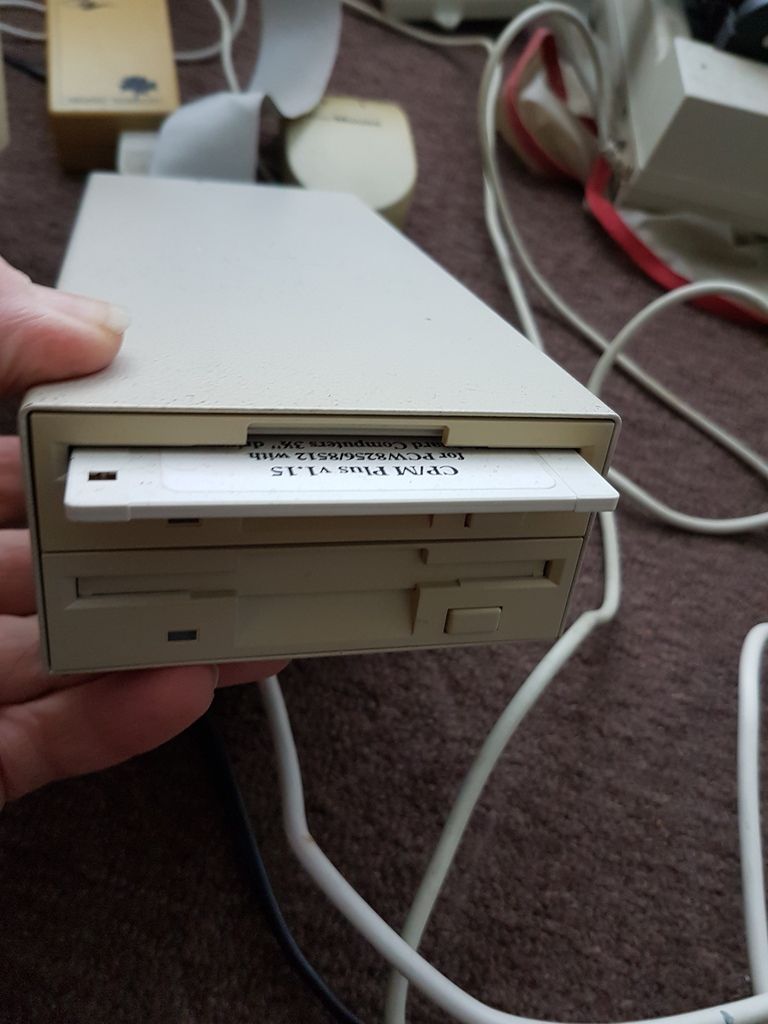 Now, you're going to need some disks for all this. No problem. I forgot to count all the 3.5" ones, but you'll see a bunch of Locomotive software utilities for Pinboard drives amongst all that lot. As for 3" disks, about 40 of those mostly with various DTP, word processing stuff as well as a few games.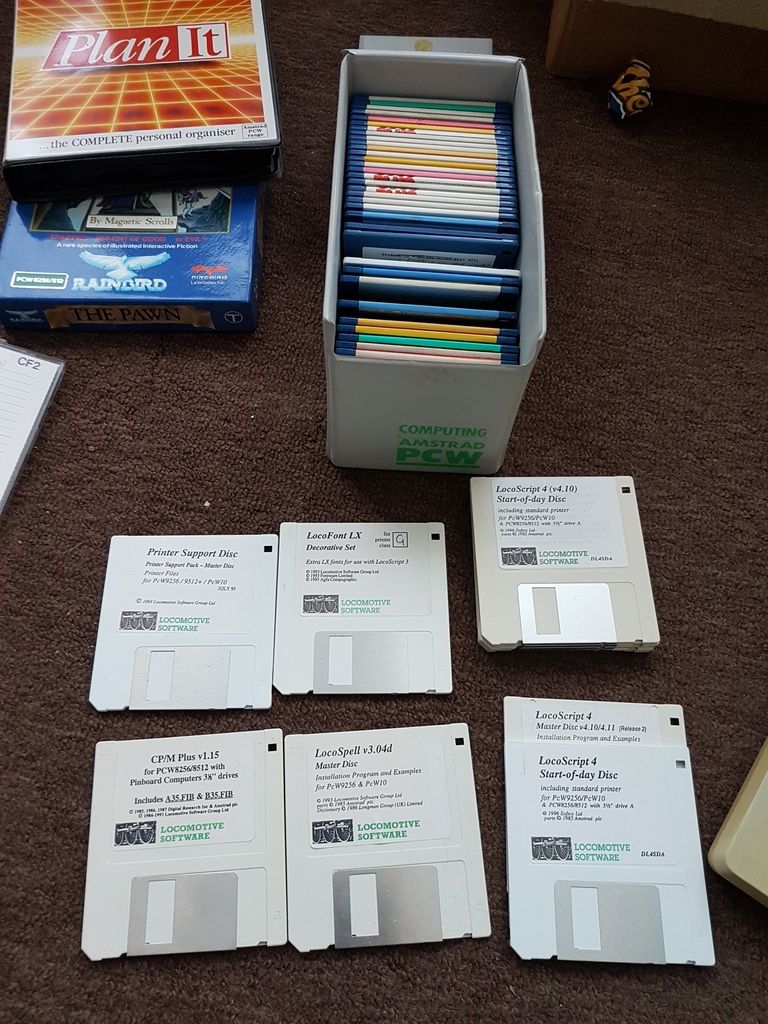 That'll keep you busy for a while...
A bit of literature. I did have more but I can't find it.
It also has 2 printers, an original Amstrad and a Canon BJ. Forgot to take picture of those...
So, that's about it really. The only issues I've noticed is sometimes the 3" floppy drive needs a bit of a tap on the eject button to make it realise it has a disk in it, and the B drive on the pinboard external is a bit squeaky. Also, running through all the 3.5" drives with a head cleaner would be nice. When I last played with it, a dirty floppy (oooh matron) dirtied things up and I did take them apart to clean with IPA and a cotton bud which made them happy until it happened again, upon which I couldn't be bothered doing it again. The same batch of disks also dirtied up my Amiga drives too. Grr. You forget these things are approaching 30 years old and can be a bit grubby by now...
Anyway. Anything else, just ask.
Now, the fun bit. I'm not quite sure what to value all this at. I'm reluctant to value going by some of the things I've seen on Evilb*y, dirty rotten gougers that some of them are, but it's also just gone xmas and kids are expensive so...
I'll have a go at £150 for the lot.
I'm very reluctant to post and package all of this, as you can imagine it's all quite heavy and would be quite awkward to pack safely so I would much prefer collection. I'm willing to travel or meet up myself within reason, I commute between Newport and Pontypridd for work, with occasional forays to Swindon so anywhere around there is an easy one, but also don't mind going a bit further afield of a weekend if need be. Ask! I'm sure we can work something out.
And that's about it. Cheers folks, and never forget your towel...