I have for sale few
GOTEK (or HxC Floppy emulator) External Floppy Round Cables for ATARI ST
. Can be used to connect CosmosEx device to Atari ST as well.
Works great and plug and play with my ATARI 520ST (Gotek will be the A drive and bootable). Recently I also tested with 520STfm which has an internal drive - Gotek will work as Drive B).
Update:
Recently I got a report, that the cable works fine with the regular floppy drive as well.
Price is a bit higher in comparition to my Amiga Gotek cables, but this is due to hard to get and overpriced ATARI floppy connectors.
For powering Gotek external psu may be used, or I can provide a joystick/mouse port passthru adapter that can be used to power Gotek directly from ST.
Price for cable is 29 €.
Option: Price for external power adapter for Gotek is 8 €.
Option: Price for passthru joystick/mouse port power adapter is 6,5 € (
adapter
for atari st with side ports or
adapter
for atari st with underside ports).
Price do not include shipping. Payment is possible by paypal (friend or buyer pays fees) or SEPA banktransfer.
Availability: 5 pcs

Photos (click to enlarge):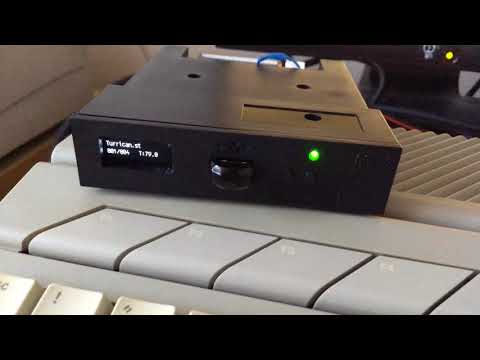 Optionaly I can also offer the
ATARI ST Bootselector (Bootswitch)
With this adapter you can boot from internal or external floppy drive easily. Depending on the switch position internal drive can be A and external drive B or internal drive can be B and external drive A. You can only use this adapter if you are lucky enough and your Yamaha YM2149F chip inside ATARI ST is placed in socket. If it is soldered this can not be used. Install is simple - you just remove Yamaha chip from the socket and place it into the adapter. Then you install adapter in place and move the cable with switch out (best place to move the cable is where the mouse/joystick ports are). Works perfectly on my ATARI 520STfm. Very useful in situation you do not want to remove real internal drive and you still want to be able to boot from Gotek on external port.
Price for the bootselector adapter is 17 €.