-= Thank you all for your patience and input - We are excited to announce the official release of the VIC-II² and have notified via PM those who kindly registered their interest - Feel free to post support queries in this thread =-



PAL/NTSC Switcher Kit for Commodore 64 Assy 250407/250425/250466 only


Q: Which is better; NTSC or PAL?
A: Both!
This new 'not-for-profit' 25-piece kit for old 1982+ breadbin Commodore 64 computers from Perifractic's Retro Recipes and 1STAGE will allow your C64 to switch between PAL (Europe/Australia) and NTSC (North America) video output modes, to maximise the best-of-both-worlds in software compatibility, picture quality, nostalgia, speed, resolution, and more. It packs LumaFix64 on board, to improve the C64's notorious vertical image banding too.

Click here to order now

Watch the full project video inc. installation guide and factory tour: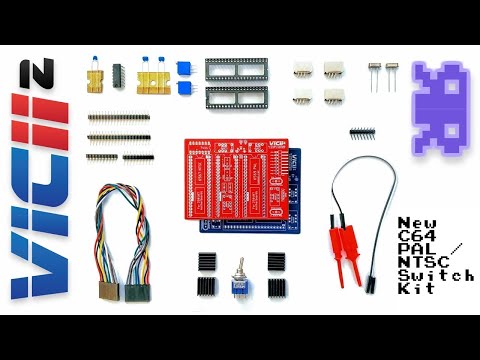 PLEASE READ BOTH SECTIONS CAREFULLY:
Before Ordering (important compatibility info)
Not compatible with slimline "C64C" cases - this only fits "breadbin" original C64 style cases (due to the lower C64C keyboard)

The VIC-II² has only been tested on breadbin motherboards with "ASSY 250407" or "250425" or "250466" printed on the lower edge - please check you have one of these before ordering as we cannot offer returns

Your monitor must support both PAL & NTSC or you will see a black & white image, or no image at all, in one of the modes - please check its specs carefully before ordering (if yours doesn't most "upscaler" devices will, such as the XRGB Mini - see PDF below)

VIC-II chips not included - you'll need a 6567 (NTSC) & 6569 (PAL) chip; any "R"evision will work

This is not a ready-made product but a kit, and requires soldering experience - you can enquire at the forum below if you need the kit built for you

You will receive 2 VIC-II² PCBs in your kit, one red one blue (not yellow as pictured) which will cover all 3 ASSY numbers above

The kit includes 25 individual tested components, carefully packaged in an anti-static bag and bubble mailer

The kit also includes the LumaFix64, and heat sinks (not pictured) to protect your precious VIC chips

Parts may differ slightly from those pictured

Please allow 28 days for delivery
After Ordering (important instructions/support notes)

This fully beta tested hobbyist kit is sold 'not-for-profit' therefore thank you for understanding that - due to the extra cost it would add - it is offered without warranty or support...
However you can post technical support requests in this thread below

where the community and/or the developers can respond

Installation guide

(not enclosed with product)

Installation guide video

(watch from 15 mins 43 secs)
The following video covers one of the troubleshooting steps if you have no colour after the conversion and your monitor definitely supports PAL & NTSC: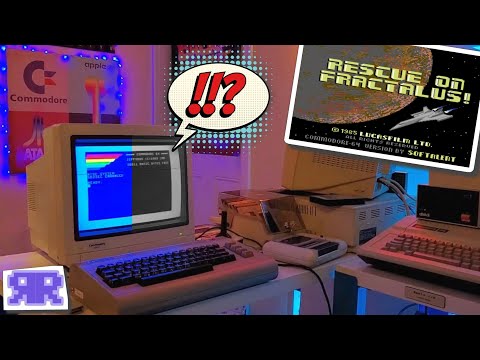 Polite Disclaimer:
If you opt to order, build and install the VIC-II² in the notoriously sensitive and unpredictable (yet lovable) vintage Commodore 64s, you do so entirely at your own risk. We cannot be held responsible for any damage or faults caused to your C64, components, yourself, or otherwise, by incorrect or even correct use of this 'not-for-profit' hobbyist do-it-yourself kit - which is sold without warranty or support due to the cost that would have added. The installation process is intended only for users highly competent with electronics engineering and soldering. Thank you.
Above all else we hope you enjoy bringing VIC-II the future!....
Your friend in retro, Perifractic
http://perifractic.com