DRAMBOARD V1.2 – 4164/41256 DRAM chip tester

Test memory chips for the C64 (breadbin) quick and easy! 8x 4164 DRAM (8x8kB) are used in older C64:s.
Arduino Nano-based DRAM (Dynamic RAM) tester for 4164* and 41256** type DRAM chips.
User manual: http://docs.anemo.se/dramboard-manual.pdf (right-click to save)

Availability:
SOLD OUT - no new batch planned in near future

Four loops with four memory verify tests are run:
1. Fill with ones
2. Fill with zeros
3. Fill with alternating ones and zeros
4. Fill with alternating zeros and ones

• Test time, 4164: 40 seconds
• Test time, 41256: 1 minute, 45 seconds
• Duo color status LED:
Green - Init & passed all tests
Yellow/orange - tests running
Red (blinking) test failed
• Arduino current supply overcurrent protection (Polymer PTC self-resettable fuse)

• Arduino output pins overcurrent protection (current limiting resistors, new for v1.2)

• Serial monitor (9600 bauds)

Pre-programmed Arduino Nano (socketed) and 30 cm mini-USB cable included. DRAM chip in pictures is NOT included
Note! 4164 chips detected as working/defective has been verified in real C64. 41256 test mode is BETA as I haven't had the opportunity to test chips from multiple manufacturers. Tests are not 100% accurate (timing wise) and should be seen as an good indication.

PRICE & PAYMENT:
€31.5 including international UNTRACKED shipping
€39 including TRACKED shipping
Payment as gift via Paypal


Drivers for the CH340 chipset is needed for serial communication: https://sparks.gogo.co.nz/ch340.html

- - -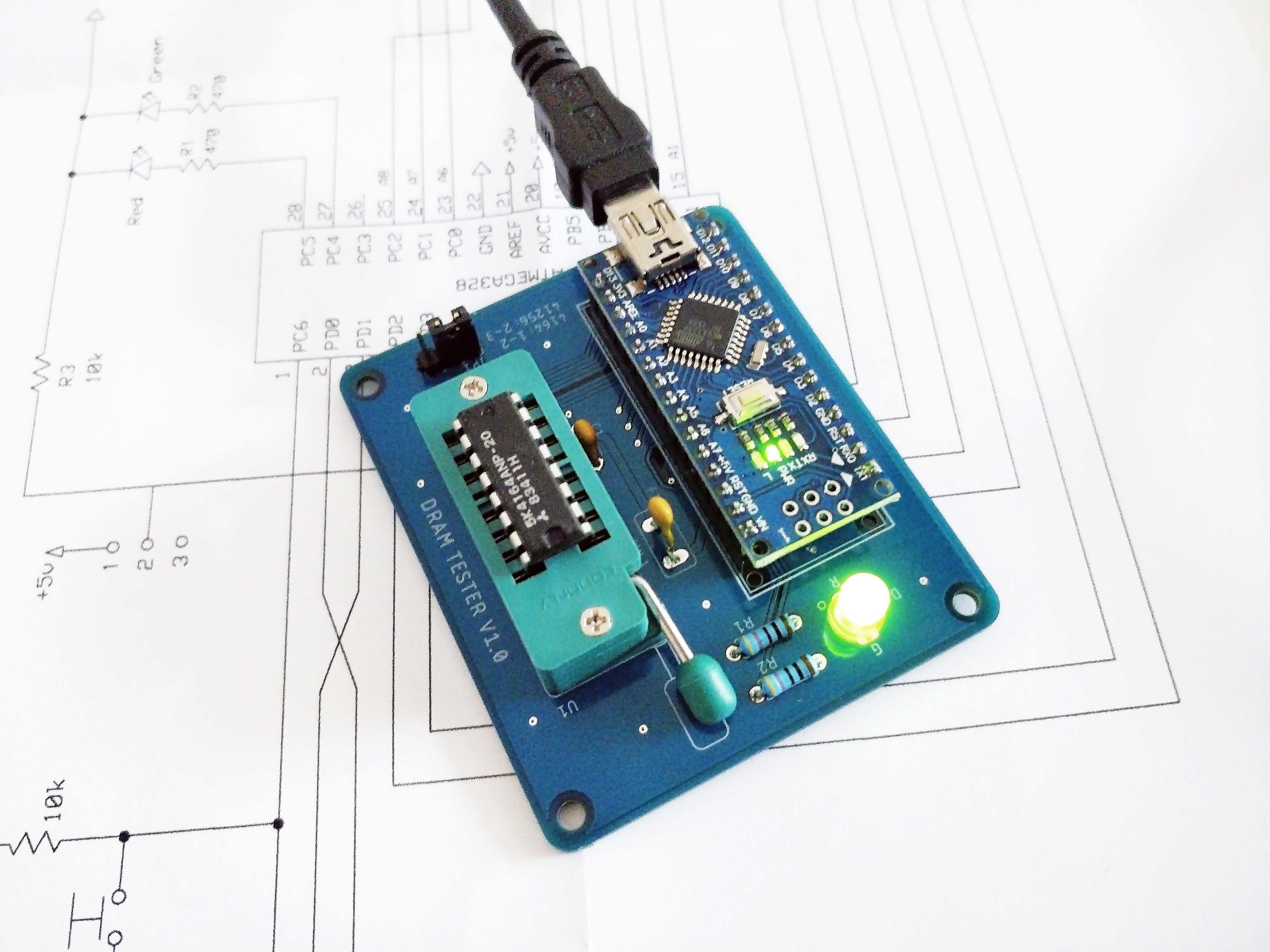 Image above shows v1.0

*4164 DRAM cross reference:
MB8264-15 (Fairchild)
MB8264A-15 (Fujitsu)
HM4864, HYB4164P2BD (Hitachi)
M3764A-15 (OKI)
MT4264-25 (Micron)
M5K4164AP-15, M5K4164 ANP-10 (Mitsubishi)
MK4564N-20 (Mostek)
MCM4164BP15, MCM6665BP20, MCM6665AP (Motorola)
D4164C-2, D4164C-15, uPD 4164-1 (NEC)
KM4164B-15 (Samsung)
TMM4164 C-3, TMS4164-15NL, TMS4164-20NL (Toshiba)
**41256 DRAM cross reference:
TMS4256 (Toshiba)
MCM6256 (Motorola)
HM51256 (Hitachi)
MB81256 (Fujitsu)
HYB41256 (Siemens)
KM41256 (Samsung)
MSM41256 (OKI)
uPD41256 (NEC)


The boards are also sold elsewhere!